Title
[Queen's Class] 4 Special Points to Catch
[Queen's Class] starts airing on MBC channel from 10pm on June 12th, 2013.
"A special lesson is presented on your TV screen!"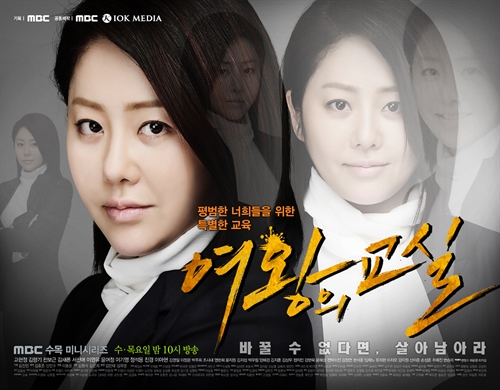 In the night of June 12th, a special new MBC drama series [Queen's Class] will start airing which will bring the new breeze to the TV screens in 2013.
[Queen's Class] has already been in the center of attention at the planning stage with the super casting. The story is about educational system which could be considered a common theme. However, the plot will not stop at the ordinary happenings in a school but it will go beyond to the wandering and frustration, making of a choice and responsibility, and of both children and adults who has to find and make their own way.
Especially, the casting of the drama is in the center of attention as Ko Hyun-jung, Kim Hyang-gi, Chun Boh-geun, Kim Sae-ron, Seo Shin-ae, Lee Young-yoo, Yoon Yeo-jung, Lee Ki-young, and Choi Yoon-young are lined up. And here are 4 points not to be missed while watching [Queen's Class], the drama that will bring a sensation to the TV screens in your livingroom.
1/
Queen, the legend is coming back!
Actress Ko Hyun-jung has come back to the TV screen in 3 years.
It has been 3 years since Ko Hyun-jung left the TV screen and she is now coming back with [Queen's Class] with a grand expectation. Ko Hyun-jung is acting an elementary school teacher, Mah Yeo-jin, who has an 'absolute power'and chilling charisma, always dressed up in sharp suit and not a strand of hair out of place. This is where Ko-Hyun-jung's professionalism shines. It is very much expected to see how 'the most charismatic actress Ko-Hyun-jung'will act absolutely powerful teacher, Mah Yeo-jin and what kind of educational system she will present to train her students.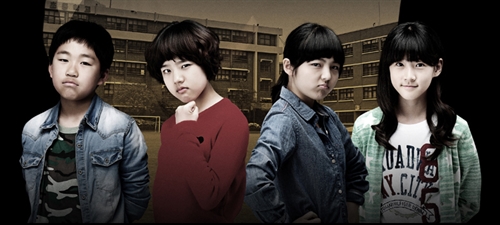 2/
Average age 12.4 ... the one and only children stars'dream team ...
remarkable performances of 5 super idol children stars!
5 children stars''super rare'acting skill and concentration is also in the center of attention. 5 children stars, Kim Hyung-gi, Chun Boh-geun, Kim Sae-ron, Seo-Shin-ae and Lee Young-yoo have been building up their acting skill and profession through various films and TV dramas. They are the outstanding children actors and actresses who even give tension to other grown up stars and they will show the most of their skillful performances in rebelling against teacher Mah Yeo-jin's absolute power.
Kim Hyang-gi is acting Shin Hana, the class president. Chun Boh-geun, as known as a natural actor'is acting Oh Dong-gu, a kid who has a talent in mimicking comedians. Kim Sae-ron, who stands in the front line for the skillful performance is acting Kim Seo-hyun, the 'model student'of the class and the top student in the whole school. The cutest child actress, Seo Shin-ae is acting Eun Boh-mi, the outcast of the class. Lee Young-woo, who has a lovely appearance is acting Goh Nah-ri, the precious only daughter of a wealthy family. All these 5 children stars'average age is as low as 12.4 but they have formed the most skillful team and their school stories will constantly give interesting and touching moments to the drama viewers.
3/
"Can't be better!"
Full force of the teachers'team: Yoon Yeo-jung, Lee Ki-young and Choi Yoon-young.
It is almost a feast that the professional actors and actresses'acting the school teachers and it certainly is one of the points not to be missed. Actress Yoon Yeo-jung is acting the principal of the school who hides a secret charisma. Lee Ki-young is acting vice principal who is strict on school rules. Choi Yoon-young is acting a kind teacher who embraces all the students with warm understanding and tries to level herself down with the students. The supporting actors and actresses are adding the weight to the drama with their genuine acting. Their trustworthy supporting acting will be the stems of the drama for each and every episodes.
4/
"There never has been such a drama on the theme of education!"...
This drama makes us look back on the current situation of the educational system.
[Queen's Class], being the first drama to talk about educational system of an elementary school, is gathering the attention from the drama viewers. However without any old fashioned melodramatic aspects such as 'secret of the birth', [Queen's Class] will still lead the story with the tension and struggle between 'absolutely powerful'teacher Mah and her 6th grade elementary students.
[Queen's Class] brings a new thought on the elementary students whom we have only thought as a group to be protected. The elementary kids in this drama will feel the fear and frustration from teacher Mah's 'special care for the humble students'. And while struggling against teacher Mah, they will be betrayed by the friends and rebel against the teacher and her educational system but only to be realizing and finding a new way of life. The story and plot will be very refreshing to the TV screens. And it is also very exciting to see what new ideas and messages will be revealed by this extra ordinary drama. In every episode, the students will be struggling to find their means to stand against the strict teacher who has become the symbol of the power of an irrational society. Every week on Wednesday and Thursday nights, [Queen's Class] will bring touching moments to the viewers with a strong plot and a realistic theme. [Queen's Class] will start airing from June 12th at 10pm.
* [Queen's Class] is written by Kim Won-seok, Kim Eun-hee and directed by Lee Dong-yoon.