Title
The King's Doctor, Cho Seung-woo's Drama Posters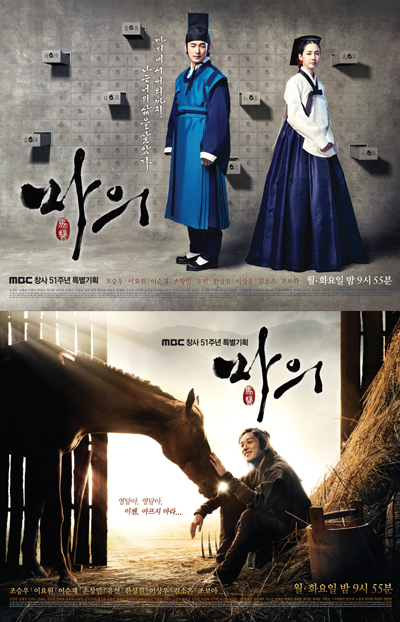 ▶ Broadcasting Time : Every Mon, Tue 21:55 from October 1st, 2012
This is the first time Cho Seung-woo is acting on the TV screen since his debut in 1999. He said, "if I look into the eyes of a horse, I feel myself being purified."
Cho Seung-woo is acting in upcoming MBC drama series
. His character, Baek Kwang-hyeon, a surgeon, is a historical figure of the Joseon Dynasty. He was the surgeon who started as a veterinarian for horses and ended up as the doctor for the King.
, special drama series to celebrate The 51st Anniversary of MBC will start airing From October 1st, 2012. Previous to the broadcasting, two kinds of drama posters were presented.
In the posters, Cho Seung-woo and Lee Yo-won show off their attraction. Cho Seung-woo is acting Back Gwang-hyeon, the doctor and Lee Yo-won is acting Kang Ji-nyeong, his lover and his rival.
First poster shows the encounter of two mortal beings, a human and a horse, which expresses the preciousness of life and nature. This is indeed the main theme of
, the medical costume drama.
The posters were shot in the drama location, Yong-In Dramia, MBC's grand outdoor studio. The actor Cho Seong-woo sat under the sun shine stroking the horse which was shot in a very comfortable situation where the true communication was possible between two beings. In fact, Cho Seung-woo kept trying to communicate with the horse even in the times of his break. He played, talked and led the horse showing the true spirit of his character as a horse doctor.
The second poster shows Baek Gwang-hyeon and Kang Ji-nyeong expressing several senses of their feelings. Their restrained face shows various feelings toward each other. They were childhood friends when little, lovers as growing up and they become rivals, both practicing in medical. Through the time of poster shooting, they were both friendly and serious. They are expected to be another best couple in a costume drama.
After the poster shooting was finished, Cho Seong-woo said, "I want to take these horses to my home. When I look into these eyes of the horses, I feel myself being purified." He showed his tremendous affection to the horses.
MBC's new drama series
, following after
, is a costume drama about a man who started as a humble veterinarian but ends up as the King's doctor. His life is full of dramatic scenes. The first shooting of the drama took place on August 23rd in Moon Kyung, a southern region of Korea.
is directed by Lee Byung-hoon who is popular with his previous drama series
,
,
and more. The casts are Cho Seung-woo, Lee Yo-won, Sohn Chang-min, Lee Sang-woo...etc... The first episode will go on air on the first day of October 2012.